Rear Admiral, Born 1901, Died 1964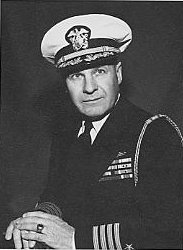 Having previously studied at St. Johns College and Johns Hopkins University, Stephen G. Barchet entered the United States Naval Academy in the fall of 1919, graduating with the Class of 1924. Commissioned as an ensign upon his graduation, Barchet spent the next ten years in a variety of assignments. During that period he served in battleships, destroyers, and submarines. He also returned to the Naval Academy as an instructor, teaching AC and DC electrical theory to 3rd and 4th year midshipmen.
Barchet's seagoing duties during the same period included assignments as electrical and engineer officer, organization, administration, ship operations and direction of personnel.
From 1934, Barchet served as the commanding officer of S-12 and, in 1939, assumed command of Argonaut, the first (and only) purpose-built mine laying submarine in the U.S. fleet. Argonaut was the largest American submarine until the advent of nuclear power. At the time of the Japanese attack on Pearl Harbor, then Lieutenant Commander Barchet was on station in Argonaut near Midway.
During this first war patrol, Barchet made a submerged approach on what was initially believed to be a Japanese invasion force attacking Midway. (In fact, it was a pair of destroyers detached from the Pearl Harbor attack force on a hit and run raid.) Submerged sonar attacks were in keeping with the established American submarine doctrine of the immediate pre-war period, and further justified byArgonaut's age, great size, inadequate diving capabilities, and lack of speed and maneuverability. Despite some objections raised by his executive officer, Barchet's wisdom was amply borne out byArgonaut's only attempt to act as an attack submarine, when she was lost with all hands in the counter-attack.
After taking Argonaut to Mare Island for modernization, Barchet moved on to a number of wartime commands. These included SubDiv 5 and SubDiv 32. During the early phases of the war he planned, organized, and directed defensive submarine war patrols in defense of the Panama Canal Zone.
From 1943-44, Barchet was Operations Officer on the staff of Commander Submarines, Atlantic Fleet. This post involved planning and operational supervision of some 100 submarines and support vessels. Barchet was awarded the Legion of Merit for his achievements in this post.
Promoted to captain, he also served as Operations Officer, 7th Amphibious Force, Pacific. In this assignment he coordinated planning and supervised operations of approximately 1,000 ships and craft, consisting of cruisers, destroyers, transports, and landing craft. These operations included the assault landings at Lingayen Gulf, the occupation of Korea, movement of Nationalist troops to north China, and the repatriation of Japanese troops at the end of the war.
At the end of the war he was serving as Acting Chief of Staff for Admiral Dan Barbey, Commander, 7th Amphibious Force, Pacific. He received an additional Legion of Merit, a Bronze Star, and the Nationalist Chinese Order of Flower for these services.
From 1946-48, Captain Barchet served as executive officer of the Naval Torpedo Station, Newport, Rhode Island. At that time this facility employed up to 3,000 military and civilian personnel engaged in the manufacture, testing, and storage of torpedoes, as well as conducting research in underwater ordnance.
In 1948, Captain Barchet assumed command of the anti-aircraft cruiser U.S.S. Tucson. Manned by a skeleton crew, and taking on trainees directly from recruit training centers, Barchet pulled everything together and within eight week, with only a 70% manning level, Tucscon was able to complete all assigned tasks in fleet maneuvers.
In 1949, Barchet was assigned as Secretary, U.S. Naval War College, Newport, Rhode Island. Leaving that post in 1951, he was then assigned as Commander, U.S. Naval Amphibious Base, Little Creek, Virginia.
In 1952, Captain Barchet took up his final position as Chief of Staff to the Commandant, 9th Naval District, at Great Lakes, Illinois. (The photograph on this page dates from this period.) He retired in 1954, taking a tombstone promotion to rear admiral.
Rear Admiral Barchet passed away in 1964.