Captain, born 1918, died 2002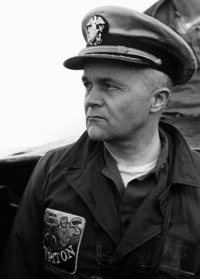 Born in Palo Alto, CA in 1918, Edward L. Beach, Jr. was the son of a naval officer. He was graduated second in the U.S. Naval Academy Class of 1939, and first in his Submarine School class in 1941.
His World War II service included time as Damage Control Assistant, Chief Engineer, and Executive Officer in U.S.S. Trigger, and Executive Officer in U.S.S. Tirante. During his service in Tirante, Beach was awarded the Navy Cross. He ended the war as commanding officer of U.S.S. Piper, making a single war patrol. World War II ended beforePiper could make an attack, though she did rescue six Japanese sailors from the Sea of Japan, of which Beach later wrote, "…I have since felt grateful, after all the depth charges and torpedoes, that this, instead of destruction of my fellow man, is my last memory of the war." (Around the World Submerged, p. xv.)
After World War II, Beach commanded U.S.S. Amberjack, U.S.S.Trigger (SS-564, a new boat, named after the boat he served aboard during World War II, and test bed for a new diesel engine design that proved to be completely worthless). He served as Naval Aide to President Eisenhower during his first term, then went on to commission the historic twin-reactor radar picket submarine U.S.S. Triton (SSN-586), at the time the world's largest submarine. Beach commanded Triton on her historic 84-day submerged circumnavigation of the earth in 1960, and would write a popular book about the cruise.
A noted novelist and historian, Beach was the author of Run Silent, Run Deep, Dust on the Sea, andCold is the Sea, as well as a number of non-fiction books, including The Wreck of the Memphis, which told the story of the loss of his father's ship to a tsunami in Santo Domingo Harbor in 1916, andSubmarine, a history of U.S.S. Trigger. Captain Beach also contributed material to the books of numerous other authors. His final literary task was to edit and annotate From Annapolis to Scapa Flow, the autobiography of his father, Captain Edward L. Beach, Sr., which will be released by the United States Naval Institute Press in January 2003. Beach Hall, the USNI's home at Annapolis, is named in honor of both Captains Beach.
Captain Beach passed away at his home in Washington, DC on 1 December 2002.
Books by Edward L. Beach:
Around the World Submerged: The Voyage of the Triton (Bluejacket Books)
Run Silent Run Deep (Cassell Military Paperbacks)
Scapegoats: A Defense of Kimmel and Short at Pearl Harbor
THE WRECK OF THE MEMPHIS [First Edition] 1st