Captain, born 1901, died 1943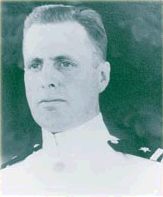 Born in Henry, Illinois on 11 September 1901, John Cromwell was graduated from the United States Naval Academy with the Class of 1924. He saw service in Maryland, as well as in several submarines, before achieving command of U.S.S. S-20. By the beginning of World War II he was serving on ComSubPac's staff, overseeing the operations of SubDiv 203 and SubDiv 44. He would also take command of SubDiv 43.
On 5 November 1943, Cromwell departed Pearl Harbor aboard Lieutenant Commander Fred Connaway's Sculpin. Sculpin's ninth war patrol was being undertaken as part of Operation Galvanic, the invasion of the Gilbert Islands. Should conditions warrant, Captain Cromwell would form a wolf pack with Sculpin, Searaven, and Spearfish or Apogon. Because of his position on the Pacific submarine command structure, Cromwell was thoroughly familiar with the operational plans for Galvanic, as well as the source and function of Ultra.
On the night of 18 November 1943, Sculpin made radar contact with a large convoy, following until morning, when she moved in to attack. Alert Japanese lookouts spotted her periscope, and the escorts immediately turned to attack. Sculpin was subjected to two depth charge attacks, the second keeping her under for hours repairing damage. What was not realized until too late was that the depth gauge was also damaged.
When Connaway decided to go to periscope depth, the diving officer failed to realize that the depth gauge wasn't moving, and instead of levelling off at 62 feet, Sculpin heaved herself to the surface with the depth gauge still reading 125 feet. She was spotted by the destroyer Yamagumo, which opened fire at once.
Connaway ordered a crash dive, but Yamagumo's follow up depth charge attack was perfectly timed and, with Sculpin uncontrolable submerged, Connaway was forced to battle surface and attempt a gun action.
Yamagumo's first salvo hit Sculpin's bridge, killing Connaway, along with his executive and gunnery officers. With the senior officers dead, Lieutenant G.E. Brown, Jr. assumed command, ordering the crew to abandon and the boat to be scuttled. Cromwell decided to go down with Sculpin, fearing that he could be forced to reveal what he knew about Ultra and Galvanic. Ensign Fiedler, the diving officer who had failed to notice the defective depth gauge and presumably felt responsible for what had happened, also chose to go down with the boat.
The 41 survivors were split into two groups, and put aboard the aircraft carriers Chuyo and Unyo for transport to Japan. In an ironic twist, Chuyo was torpedoed and sunk by Sailfish—the raised and renamed Squalus, which Sculpin had been instrumental in finding after she was sunk on a training exercise—killing all but one of the 21 Sculpin survivors aboard.
When the story of what Captain Cromwell had done became known after the war, he was nominated for the Medal of Honor. This was awarded posthumously to his widow. In 1954 the destroyer-escort U.S.S. Cromwell was named in his honor.