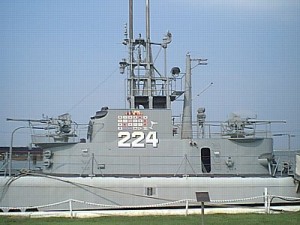 The conning tower fairwater of USS Cod, in a photograph taken 6 September 2001 at her berth in Cleveland, Ohio. This is an excellent example of the "covered wagon" bridge cutdown performed on many Gato-class submarines to reduce the surface silhouette. The painted flags, representing wartime kills—and, in the case of the cocktail glass, a rescue—and the hull number would not have been present during wartime. Note the single-mount 40-mm guns on the forebridge and cigarette deck. Note also the SJ radar antenna behind the extended periscopes, and the retracted SD air warning radar on the aftermost mast, just forward of the after Target Bearing Transmitter. In a combat situation, this mast would be extended. The USS Cod represents one of the finest restoration efforts to be found.
Launched 21 March 1943 at the Electric Boat Company yard in Groton, Conn, the SS-224, USS Cod was commissioned on 21 June, with Lieutenant Commander James C. Dempsey in command.  Five diesel engines built by General Motors from the Cleveland Diesel plant were used to power the vessel.  The ship was armed with ten 21-inch torpedo tubes, one 5-inch, 25 caliber gun and two 40 mm guns.  The anti-aircraft gun (s) were used in varying combinations that were mounted fore and aft on the bridge deck.
Assigned to Brisbane, the USS Cod sailed on her first war patrol on 22 October 1943. Patrolling in the South China Sea, she found few targets.  Her single attack, on 29 November, resulted in a wartime credit of one ship and 7,100 tons sunk, but this was disallowed postwar.
Returning to Fremantle, Cod underwent a routine refit. She departed Fremantle for her second war patrol on 11 January 1944. Returning to the South China Sea, Cod patrolled off Java and Halmahera. On 16 February Cod used her guns to sink a sampan. A week later she torpedoed a Japanese merchantman, then sank another on 23 February. On 25 February 1944, Cod attacked a third freighter but was forced deep by an alert escort.
After another refit at Fremantle, Cod departed on 6 April 1944 for her third war patrol. Patrolling the Sulu and South China Seas off Luzon, she attacked a heavily-escorted 32-ship convoy on 10 May. Before being driven deep by the convoy's escorts, Cod was able to sink the destroyer Karukay and one of the freighters. This would be Dempsey's last patrol in Cod.
Returning to Fremantle again on 1 June, she departed on her fourth war patrol on 3 July, now under the command of Commander James A. Adkins. Patrolling between Luzon and Java, Cod sank a merchantman on 3 August and a landing craft, LSV-129, on 14 August. Only these two targets were confirmed postwar by JANAC. (Two more vessels were credited to this patrol at the time.)
Cod departed Fremantle on her fifth war patrol on 18 September 1944. Operating in the Philippine area, she put down a cargo ship on 5 October. On 7 October she attacked a tanker, inflicting heavy damage.
On 25 October Cod came upon a large convoy, making several unsuccessful attacks. Having expended all of her torpedoes, she shadowed the convoy, providing position reports for another day.
November found Cod on lifeguard duty off Luzon. She completed her fifth war patrol at Pearl Harbor on 20 November, then continued on to Mare Island for an overhaul.
Arriving back at Pearl Harbor on 7 March 1945, Cod departed on her sixth war patrol on the 24th, with orders to operate in the East China Sea. Her primary assignment during this patrol was lifeguard duty, though she didn't lack for action. On 17 April Cod sank a Japanese tug and it tow with gunfire, picking up three survivors in the process. On 24 April she attacked a convoy, failing to sink any targets, but becoming the subject of the worst depth charging of her active service career.
On 25 April, Cod achieved better results, sinking the minesweepr W-41.The following day, 26 April, a fire broke out in after torpedo room of the USS Cod. One torpedo, already loaded in a tube, was manually ejected when it appeared in danger of being detonated by the fire. The fire itself was extinguished through the quick action of the crew. One man was lost overboard in the aftermath of the fire while opening the hatch to vent the compartment. He would be Cod's only combat loss.
The USS Cod spent most of June 1945 refitting at Guam, departing on her seventh and final war patrol in the Gulf of Siam on 26 June 1945, now under the command of Lieutenant Commander Edwin M. Westbrook, Jr. On 9-10 July, Cod was involved in rescue attempts for the Dutch submarine O-19, which had run aground. When it proved impossible to refloat the Dutch boat, the crew was taken off and the grounded submarine destroyed. A cocktail glass painted on the conning tower fairwater commemorates the party that ensued after the rescued Dutch crew was brought back to safety.
Recently, it was discovered that motion picture footage had been shot during the rescue attempt, and this has been shown on television as part of a History Channel documentary on World War II American submarine operations.
Between 21 July and 1 August, Cod made a total of 20 separate gunfire attacks on junks, sampans, and barges, which were being used as supply vessels by the Japanese garrison at Singapore. Each of the small vessels was first inspected, in order to remove any friendly crew, then sunk by gunfire. An aerial attack on 1 August stranded a boarding party on one of the sampans, and when Cod surfaced she was unable to locate her men immediately. After a two-day search, involving several American boats, the men were picked up by U.S.S. Blenny (SS-324).
Cod ended her final war patrol at Fremantle on 13 August 1945, having earned seven battle stars, and being credited with a total of 26,985 tons of enemy shipping destroyed. (This is the JANAC figure, wartime credit being, as usual, considerably higher at 51,100 tons.) On 31 August 1945, Cod sailed for New London, via the Panama Canal and Miami, arriving on 3 November. She immediately departed for the Philadelphia Naval Yard for an overhaul, returning to New London upon its completion, where she was decommissioned and placed in reserve on 22 June 1946.
Cod was reactivated in 1951. During this activation, she took part in NATO exercises, then was again decommissioned in 1954.
Converted for use as a dockside training boat, a process that normally involved removing the screws, taking the bunks out of the after battery compartment to provide classrooms, removing the battery cells, and sealing the ballast tank flood valves as a precaution against accidental submergence, USS Cod was towed to Cleveland via the St. Lawrence Seaway in 1959, where she replaced U.S.S. Gar (SS-206) at the Naval Reserve Center. She served in this capacity until 1971, by which time the Navy had virtually eliminated non-nuclear submarines from the fleet, when she was stricken.
Turned over to the Cleveland Coordinating Committee for the USS Cod, the aging boat was opened for public tours in May 1976. Since that time a tremendous amount of work has been done, so that today Cod sits at her dock in Cleveland Ohio as one of the most meticulously restored examples of the Gato-Class submarine. In 1986, the USS Cod Submarine Memorial was designated a National Historic Landmark. The lowest numbered surviving fleet submarine, Cod is also the only example that has not been modified to provide easier access for visitors, who must still use the original vertical ladders in the forward and after torpedo rooms.
HISTORY FOR U.S.S.
Launched:
Builder:
Sponsor:
Commissioned:
First Captain:
Stricken/Lost:
3/21/43
Electric Boat
Mrs G.M. Mahoney
6/21/43
CDR James C. Dempsey
Museum, Cleveland
Patrols
No:
Captain:
From:
Date:
Duration:
Score (WT):
JANAC
Return:
1
James C. Dempsey
Fremantle
10/22/43
63
1/7,100
0/0
Fremantle
2
James C. Dempsey
Fremantle
1/11/44
62
2/9,900
2/9,823
Fremantle
3
James C. Dempsey
Fremantle
4/6/44
56
2/10,100
2/8,076
Fremantle
4
James A. Adkins
Fremantle
7/3/44
53
4/9,000
2/1,708
Fremantle
5
James A. Adkins
Fremantle
9/18/44
59
1/10,000
1/6,900
Pearl Harbor
6
James A. Adkins
Pearl Harbor
3/24/45
65
3/5,000
1/492
Fremantle
7
Edwin M. Westbrook, Jr.
Fremantle
6/26/45
47
0/0
0/0
Fremantle
Recommended Reading on the USS Cod:
USS Cod Memorabilia: