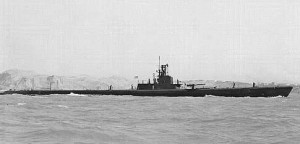 One of the most famous American submarines of World War II, the USS Wahoo was launched on 14 February 1942 at the Mare Island Navy Yard. She was commissioned on 15 May 1942, with Lieutenant Commander Marvin G. Kennedy commanding. Following initial training and shakedown along the California coast, Wahoo departed for Hawaii, arriving at Pearl Harbor on 18 August.
Wahoo set out on her first war patrol on 23 August 1942, heading for Truk. She made her first attack on 6 September, firing three torpedoes at a solitary Japanese freighter. The torpedoes missed, and the freighter turned toward Wahoo, probably intending to ram. Kennedy elected to creep away submerged, fearful of Japanese aircraft.
USS Wahoo remained in the area until 20 September, when she moved to a different part of her patrol area. An attack on a freighter appeared to produce a single hit with four torpedoes. Wahoo escaped into a rain squall as the freighter's escort counterattacked. Kennedy claimed the 6,400-ton freighter, but JANAC disallowed it postwar.
The rest of her first patrol produced no further hits. Kennedy missed his chance at Chiyoda, as well as at an unidentified target, which Kennedy had presumed to be the aircraft carrier Ryujo. (Ryujo was already on the bottom at that time.)
Immediately after returning to Pearl Harbor, USS Wahoo underwent refit and overhaul. Her deck gun was replaced by a heavier 4-inch gun, and a pair of 20-millimeter anti-aircraft guns were added.
USS Wahoo departed on her second war patrol on 8 November 1942. Sent to the Solomon Islands, her first target, a freighter and escort, eluded her when she couldn't get into position to attack. On 10 December, Wahoo fired a four-torpedo spread at the tanker Kamoi Maru. Three hit, though it took two hours for the target to sink. An escorting destroyer forced Wahoo down, causing minor damage with her depth charges.
Despite urging by executive officer Richard O'Kane, and "Mush" Morton, who was making a PCO cruise, Kennedy declined to make a second attack after the depth charging had ended. In a situation not at all unusual in the early part of the war, the younger, more aggressive officers were dissatisfied with a commander they believed to be excessively cautious.
On 14 December, a hospital ship was sighted. Despite a declaration of unrestricted submarine warfare—which allowed the cruiser rules to be ignored, and enemy ships sunk without warning—some of the rules were still followed, and hospital ships remained immune from attack. A Japanese submarine, presumed to be I-2, wasn't as lucky. Kennedy was credited with sinking the sub during the war, but the sinking was disallowed by JANAC post-war.
USS Wahoo ended her patrol in Brisbane. Instead of being sent to another boat, Morton relieved Kennedy as Wahoo's commanding officer at that time. O'Kane remained as executive officer. Together, the two officers put a new attack system into use, with O'Kane manning the periscope and Morton directing the attack based on O'Kane's observations. Arguably, it was actually the most effective system, but few other commanders were willing to give up the periscope.
USS Wahoo departed on her third war patrol on 16 January 1943. Ordered to reconnoiter Wewak, Morton improvised a chart and slipped into Victoria Bay. Finding a destroyer and a nest of Japanese submarines, Morton hit the destroyer with a down the throat shot at 800 yards after missing with his first four torpedoes. Morton believed the destroyer was sunk but was not credited with the kill.
On 26 January, USS Wahoo attacked a small convoy, consisting of two freighters, a large transport, and a tanker. Only two ships were initially observed. Wahoo hit the first with two torpedoes and the second with a single torpedo, missing with the fourth. She then fired a three-torpedo spread at the transport, which brought her to a stop.
USS Wahoo then turned to the second target, Fukuei Maru No. 2, which was attempting to ram. Hit with another torpedo, the ship continued to come on and Wahoo had to turn away at full speed to avoid being hit. At that point, things got very confusing. The first target had sunk, the second was still moving. The transport was stopped but not yet in a sinking condition, so Wahoo put another torpedo into her amidships. Another failed to explode.
At this point, Morton's actions became somewhat controversial. He surfaced to recharge batteries, at the same time going after the surviving troops from the transport (Buyo Maru) with gunfire. Unfortunately, most of the troops in the water were actually Indian prisoners of war, along with a number of Japanese garrison troops. A total of 195 Indians were killed, along with 87 Japanese—this includes those killed in the torpedo attack and sinking—out of 1,126 men aboard. It should be noted that, contrary to some reports, O'Kane related that Morton actually ordered the boats to be sunk, but did not order the deliberate shooting of survivors.
Morton's actions were not generally condemned at the time. It was presumed that combat troops remained legitimate targets as long as they were in a position to resist, were actively doing so, and were likely to be able to resume the fight. In a sinking close to enemy-held islands, leaving the boats intact would arguably have meant the troops would be able to do just that. Also, it was reported that the Japanese were shooting at Wahoo.
On 27 January 1943, USS Wahoo found another convoy but was unable to get into attack position due to an alert destroyer. She had used all of her torpedoes and was forced to give up on a possible gun action against the convoy.
Instead of returning to Brisbane, USS Wahoo ended her patrol at Pearl Harbor. Morton received a Navy Cross, as well as an Army Distinguished Service Cross forwarded from General MacArthur. Wahoo went in for refit.
USS Wahoo departed on her fourth war patrol on 23 February 1943, topping off at Midway, then continuing on to make the first American submarine patrol in the northern Yellow Sea. On 19 March Wahoo sank Zogen Maru with a single torpedo. An attack on Kowa Maru some four hours later failed due to a defective torpedo and some sharp maneuvering on the part of the damaged freighter.
On 21 March, off the Korean coast, USS Wahoo put down Hozen Maru. Four hours later Nitsu Maru also fell victim to Wahoo's torpedoes. The four survivors refused to be rescued. By the end of her fourth patrol, Wahoo had been credited with a total of eight targets sunk for 36,700 tons. JANAC later increased the number of sinkings to nine, but reduced the total tonnage to 20,000.
USS Wahoo concluded her patrol at Midway, undergoing a refit at the submarine base there. She departed on her fifth war patrol on 25 April. This would be a frustrating patrol. While Wahoo made ten attacks on eight targets during a ten-day period, she was able to sink only three ships. Still a few months away from the final solution to the Mark 14 torpedo problem, the obstinate refusal of BuOrd to listen to the commanders and fix the problems with the Mark 6 exploder probably cost Morton another three or four targets on this patrol. Despite the torpedo problems, Morton received a second Navy Cross for the patrol.
World War II – Vintage Publication 8×10 Photo – Torpedoed Japanese Destroyer
USS Wahoo then returned to the Naval shipyard on Mare Island for an overhaul, arriving on 29 May 1943. She was there, undergoing repairs and testing, until 21 July, when she departed for Hawaii, arriving at Pearl Harbor on 27 July. She departed on her sixth war patrol on 2 August, this time without Dick O'Kane, who had left Wahoo for new construction. (Tang, SS-306)
If anything, this patrol was even more frustrating. Entering the Sea of Japan, Morton found a dozen targets within four days, attacking nine of them with no results. Ten torpedoes broached, ran erratically, or hit their targets without exploding. Morton was ordered back to Pearl Harbor after reporting his torpedo problems. Wahoo's total bag for the patrol was three sampans, sunk by gunfire in La Perouse Strait, and six Japanese fishermen captured from one of them.
USS Wahoo left Pearl Harbor on her seventh war patrol on 9 September 1943, topping off at Midway and returning the to Sea of Japan. Postwar investigation credited Morton with four ships, for 13,000 tons. Japanese records showed an aerial attack on a surfaced submarine in the La Pérouse Strait on 11 October. With Japanese surface vessels joining the attack, the submarine—presumed to be Wahoo, as no other American submarine was in that area at that time—never regained the surface.
HISTORY FOR U.S.S. Wahoo
Launched:
Builder:
Sponsor:
Commissioned:
First Captain:
Stricken/Lost:
2/14/42
Mare Island
Mrs W.M. Barker, Jr.
5/15/42
LCDR Marvin G. Kennedy
10/11/43
Patrols
No:
Captain:
From:
Date:
Duration:
Score (WT):
JANAC
Return:
1
Marvin G. Kennedy
Pearl Harbor
8/23/42
55
1/6,400
0/0
Pearl Harbor
2
Marvin G. Kennedy
Pearl Harbor
11/8/42
48
2/7,600
1/5,400
Brisbane
3
Dudley W. Morton
Brisbane
1/16/43
23
5/31,900
3/11,300
Pearl Harbor
4
Dudley W. Morton
Pearl Harbor
2/23/43
42
8/36,700
9/20,000
Midway
5
Dudley W. Morton
Midway
4/25/43
26
3/24,700
3/10,500
Pearl Harbor
6
Dudley W. Morton
Pearl Harbor
8/2/43
27
0/0
0/0
Pearl Harbor
7
Dudley W. Morton
Pearl Harbor
9/9/43
32
1/7,100
4/13,000
Lost 10/11/43
Recommended Reading on the USS Wahoo:
USS Wahoo Memorabilia: