Dates: 12 July 1945 – 27 August 1945, 47 days
8th Patrol Crew List
Patrol highlights written by Frank J. Kelly, who served as torpedo and gunnery officer and TDC operator (lieutenant(jg)) on this patrol.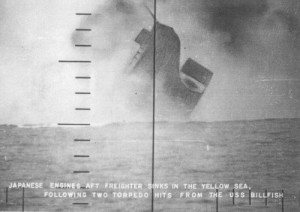 After the previous patrol we arrived at Midway and had our R&R there. Following the usual period of maintenance and training before the next patrol, we sailed on 12 July '45 for the Yellow Sea again.
(Interesting note: You should notice that we left the area in the Yellow Sea on 5 June and didn't arrive at Midway until 17 June. Imagine taking 12 days to get from patrol area to closest refitting base.)
Before getting back to the Yellow Sea we stopped at Saipan to top off with fuel and provisions. By the time we got to our assigned area off of Chosen Kan it was late in July (probably 25th or 26th). There wasn't any traffic coming along (targets were really getting scarce). So we headed on to Shantung Kwang Tun peninsula.
On 5 August we fired three fish at a 4,000-ton freighter and he sank in two minutes. We were in 80 feet of water at the time and had to evade the escort at periscope depth. (That was really scary.) The captain did a miraculous job of getting away.
On 7 August we hit a 1,200-ton freighter in the stern with one fish. His bow was straight up in the air and he settled in about 120 feet of water. His escort dropped many depth charges but once again our fearless captain evaded at periscope depth.
When we surfaced that night we were ordered out of the Yellow Sea to assume a lifeguard position in the area south of Tokyo, as we had done on the last patrol
On our way out of the area we rammed a Japanese fishing boat at about midnight on 8 August. (He didn't even show up on the radar.) ComSubPac gave us credit for 50 tons and congratulated us (as a joke) for joining that select group of submarines that sank enemy ships by ramming.
On 9 August, while on the surface—I was OOD on 8:00-12:00 am and pm—I heard a tremendous explosion to the east. I notified the captain that it sounded like a battleship firing at us, but there was nothing to be seen and the radar didn't show any blips. We determined later that it was the atomic bomb dropped on Nagasaki at 11:02. We were 125 miles away at the time. (We didnt know anything about atomic bombs or that one had gone off earlier on Hiroshima.)
We continued on and took up our lifeguard station on 12 August. On 14 August our station was moved further north, closer to the Tokyo area.
On the last two patrols we had several lifeguard stations. We were never called on to surface and pick up any downed aviators, but we were there if needed. It was a great insurance for our flying boys. Submarines actually picked over 500 pilots out of the sea during the war, the most famous being future president George Bush.
On 15 August we received word that the war was over! That was hard to believe, since we hadn't even started the campaign to land on Japan.
Some of our subs in the area were directed to go to Japan and be part of the surrender ceremony, but we were ordered back to Midway and then on to Pearl Harbor.
We arrived in Pearl on 27 August. The Billfish was to be ordered to San Diego, then to the Canal on the way to New Orleans and, finally, to the East Coast. Since I was a San Francisco boy, I was transferred off the boat and assigned to a refit crew at the sub base. I had a tearful goodbye with a great bunch of guys. But the war was over, and it was a whole new ball game now!
7th Patrol Highlights
Billfish Main Page
Puchase this great WW2
Buy This great Iconic WWII Raising Flag Print