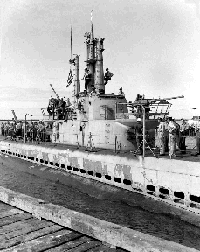 A product of the Portsmouth Navy Yard, Billfish was launched on 12 November 1942 and commissioned under the command of Lieutenant Commander Frederick C. Lucas, Jr. on 20 April 1943.
Following workup, Billfish was assigned to Fremantle, whence she made two war patrols under Lucas' command. The first was uneventful. The second proved to be considerably more exciting.
Patrolling in the Makassar Strait on 11 November 1943, Billfish was detected by a Japanese destroyer and subjected to an intensive attack. During the course of this attack, the engineering officer, Charles Rush, who was OOD at the time the attack began, would find himself temporarily in command after Lucas was unable to handle the strain and the executive officer was incapacitated by lack of oxygen from long submergence combined with carbon dioxide buildup and contamination of the boat's air supply by refrigerant gases and carbon tetrachloride spills.
During this long attack, which lasted about 16 hours and found Billfish as deep as 650 feet, the Japanese dropped some 60 depth charges. Chief Electrician's Mate John Rendernick worked damage control during the attack, including jacking the port motor back into position after the bolts were sheered, and forming a bucket brigade to clear water out of the after part of the boat.
When the Japanese finally lost track and Billfish was able to surface, only one of the four main engines would start. Repairs were made, and Billfish completed her patrol. When they returned to Fremantle, Lucas transferred out of submarines and Lieutenant Commander Vernon C. Turner came aboard to take command. Most of what happened during the prolonged attack wasn't revealed until many years later.
On 5 April 2002, Rush, by then a retired Captain, was belatedly awarded a Navy Cross for his actions during the attack. Rendernick, who passed away in December 2001, was awarded a posthumous Silver Star for his part in saving Billfish.
Billfish's third war patrol was uneventful. Her fourth, which began on 18 April 1944, and her last from Fremantle, started out with an Australian Bristol bomber accidentally attacking her. She was able to dive before sustaining any damage. Then, on 15 May, she was again attacked from the air, this time by a Japanese bomber.
On 21 May Billfish made an attack on a troop convoy, firing four torpedoes at a passenger freighter and two more at another. Three hits were observed on the first ship and one on the second. Billfishthen went deep to escape from the convoy's escorts, which subjected her to three hours of depth charging. While the crew believed they had sunk at least one of the troop ships, this could not be confirmed from Japanese records and no credit was given postwar.
NOTE: Additional details on the fourth through eighth patrols, including crew lists, may be found by clicking the patrol number in the table below.
Reassigned to Pearl Harbor, Billfish departed on her fifth war patrol on 9 July 1944. Assigned as part of a three-boat wolf pack, Billfish carried the pack commander, Commander Stanley Moseley. Also assigned were Sailfish (ex-Squalus), and Greenling, the three boats making up "Moseley's Maulers."
Billfish made an attack on a freighter, missing with four torpedoes after the target apparently saw them coming in the calm sea. The target information was passed to Greenling, as the ship was steaming in that direction.
Billfish headed west, finding a group of Japanese warships, but being unable to catch them after being forced to submerge by a hurricane. Then, on 25 August, she was again attacked by enemy aircraft.
Billfish ended her fifth war patrol at Majuro, in the Marshall Islands, on 13 September.
Following refit, Billfish set out on her sixth war patrol on 6 October 1944. Though sighting several enemy ships, she was unable to make an attack until 4 November, when she missed a small freighter.
Finally, on 7 November Billfish found a Japanese convoy and went in for a night surface attack. The attack, using both bow and stern tubes, produced hits on three targets. Billfish then escaped on the surface while the escorts attacked submerged phantoms with depth charges.
Billfish headed for Midway on 14 November, then on to Pearl Harbor, concluding her patrol there on the 27th. She then headed for San Francisco and overhaul at the Bethlehem Yard.
Departing Pearl Harbor on her seventh war patrol, Billfish was now under the command of Lieutenant Commander Louis C. Farley, USNR, who had been executive officer under Turner. By this time the demands of the war had so expanded the Navy that there was only one regular officer left in Billfish's wardroom, and the majority of the enlisted men were also reservists.
Billfish topped off at Saipan, then took up lifeguard station for the B-29 raids on Nagoya. They moved closer to Tokyo on 16 May, then concluded lifeguard duty on the 20th, passing their coding equipment to Dragonet on the 22nd, as they would be operating inside the 100-fathom line off Japan. (The rules of operation required code machines be either destroyed or removed if a boat would be operating in shallow water, where recovery was possible in the event of a sinking.)
On 26 May Billfish put down a Japanese freighter, then headed for a new patrol area in the Yellow Sea. On 4 June she sank another Japanese freighter. Later that day she sank four enemy schooners with her deck gun. The schooners fought back with machinegun fire, seriously wounding Quartermaster's Mate 1st Class Robert Oliver, who succumbed to his wounds on 5 June and was buried at sea. Following the burial, Billfish started back to Midway. She was credited with sinking two ships for 7,800 tons, though JANAC reduced the tonnage total to 3,211 postwar.
Billfish started her eighth and final war patrol from Midway on 12 July 1945. She got a freighter on 5 August, sinking her in shallow water. Billfish made her escape at periscope depth, not having sufficient water depth to go deeper.
She sank another freighter on the 7th. Once again, there was insufficent depth to go deep and it was necessary to evade the escorts at periscope depth. Billfish would get one more enemy vessel, a Japanese fishing boat, which was accidentaly rammed around midnight on 8 August.
Sent to lifeguard duty again, Billfish received word that the war had ended on 15 August and was ordered back to Pearl Harbor. She was then sent back to Portsmouth, via San Diego, the Panama Canal, and New Orleans. She was inactivated at Portsmouth during June-October 1946, then towered to New London, where she was placed in reserve.
Following service as a pierside reserve trainer at Boston from 1960-68, she was stricken on 1 April 1968 and sold for scrapping in 1971.
HISTORY FOR U.S.S. Billfish
(Click on patrol number for additional information)
Launched:
Builder:
Sponsor:
Commissioned:
First Captain:
Stricken/Lost:
11/12/42
Portsmouth
Mrs Lewis Parks
4/20/43
LCDR Frederick C. Lucas, Jr.
Scrapped 1971
Patrols
No:
Captain:
From:
Date:
Duration:
Score (WT):
JANAC
Return:
1
Frederick C. Lucas, Jr.
Fremantle
8/12/43
59
0/0
0/0
Fremantle
2
Frederick C. Lucas, Jr.
Fremantle
10/43
53
0/0
0/0
Fremantle
3
Vernon C. Turner
Fremantle
1/44
66
1/1,000
0/0
Fremantle
4
Vernon C. Turner
Fremantle
4/18/44
57
1/8,500
0/0
Pearl Harbor
5
Vernon C. Turner
Pearl Harbor
7/9/44
67
0/0
0/0
Majuro
6
Vernon C. Turner
Majuro
10/6/44
53
0/0
0/0
Pearl Harbor
7
L.C. Farley, Jr.
Pearl Harbor
4//24/45
55
2/7,800
2/3,211
Midway
8
L.C. Farley
Midway
7/12/45
44
2/5,200
1/1,091
Pearl Harbor