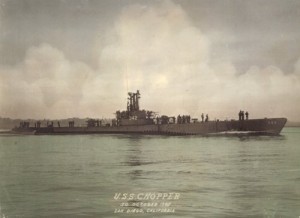 Launched 4 February 1945 at the Electric Boat Company yard in Groton, Connecticut, and commissioned on 25 May 1945, under the command of Lieutenant Commander S. Filipone, the SS-342 Chopper arrived at Pearl Harbor on 21 September, too late to participate in the war. She remained at Pearl Harbor until 24 October, when she sailed for her new home port at San Diego.
She arrived in California on 30 October, when the photo on this page appears to have been taken. Note the presence of her pennant number on the conning tower fairwater and bow which, even without the date printed on the photo, provide a clear indication that this is a post-war photograph. (Numbers are always painted out for security reasons during wartime—except in movies, of course.) Her configuration in this photo is typical of late-war Balao class submarines, with 40-mm guns on the forebridge and cigarette deck, SJ sea-search radar forward of the periscopes, SV air-search radar abaft the periscope shears, and 5″/25 wet-mount deck guns on both forward and after deck. While not visible in the photo, the Navy had also fitted a simplified central fire control system for the deck guns by this time.
Deployed to the Philippines in January 1946, Chopper participated in training and provided local service until 11 May, when she returned to San Diego. She left her home port again from 28 July to 9 November 1947, when she made a simulated war patrol to China. She left San Diego for the last time on 14 March 1948, when she was transferred to Key West, arriving there on 4 April.
She operated around Florida and the Caribbean until mid-September 1950, when she was sent back to Electric Boat for modernization. She then returned to Key West, where she continued to training and fleet exercises until 7 January 1952.
At that time, Chopper was sent to the Mediterranean until mid-May. She then operated with NATO in the Atlantic in September and October 1952. She would continue to operate on active service through the 1960s, ending her active service in 1969, when she was converted for use as a pierside reserve trainer in New Orleans.
Chopper was stricken on 1 October 1971. On 21 July 1976 she sank while being rigged as a tethered underwater target.
HISTORY FOR U.S.S.
Launched:
Builder:
Sponsor:
Commissioned:
First Captain:
Stricken/Lost:
2/4/45
Electric Boat
Mrs. G.S. Beebe
5/25/45
LCDR S. Filipone
Sunk 7/21/76
Patrols
No:
Captain:
From:
Date:
Duration:
Score (WT):
JANAC
Return:
None