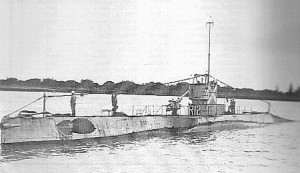 Originally commissioned in 1919, the R-12 was laid up at the end of 1932. She was recommissioned in 1940, and patrolled off New England from October 1941. During that period she was home ported at the New London Submarine Base.
Assigned to the Guantanamo Bay Naval Base, Cuba, in February 1942, she patrolled between Cuba and Key West until March 1943, when she returned to New London for a refit.
By the time she returned to Key West in May there were enough more modern submarines available for patrol duties, and R-12 was put to use as a training boat. It was in this capacity that she was lost on 12 June 1943, when the the foreends suddenly started flooding. Orders were given to close hatches and blow main ballast, but the boat sank in less than 15 seconds.
Her commanding officer, LCDR Edward Shelby, and five others who were on the bridge at the time of the sinking were the only survivors. R-12 took all 42 who were below, including two Brazilian officers, to the bottom with her. Eighteen others, who were on liberty at the time, also survived.
The loss was presumed to be caused by flooding through a forward torpedo tube, but the boat was lost in water too deep for salvage or divers, so some question still remains. Torpedo tubes are designed with interlocks to prevent inner and outer doors from being open at the same time, but these had been known to fail in older submarines.
R-12 Crew List at time of loss